This No Bake Pumpkin Cookies recipe is super easy and can be made in about 10 minutes (plus resting time)!
They're soft and chewy and are loaded with pumpkin pie spice, quick oats, and chocolate chips! No need to turn on the oven to get your fall cookie fix! These are fast and easy and amazing!
INGREDIENTS
1 cup granulated sugar
1/4 cup brown sugar
¾ cup butter 1 1/2 sticks
1/2 cup evaporated milk
1 teaspoon vanilla extract
3.4 ounces instant vanilla pudding mix dry pudding mix only
3½ cups quick oats
1 teaspoon pumpkin pie spice
sea salt to taste optional
1 1/2 cup chocolate chips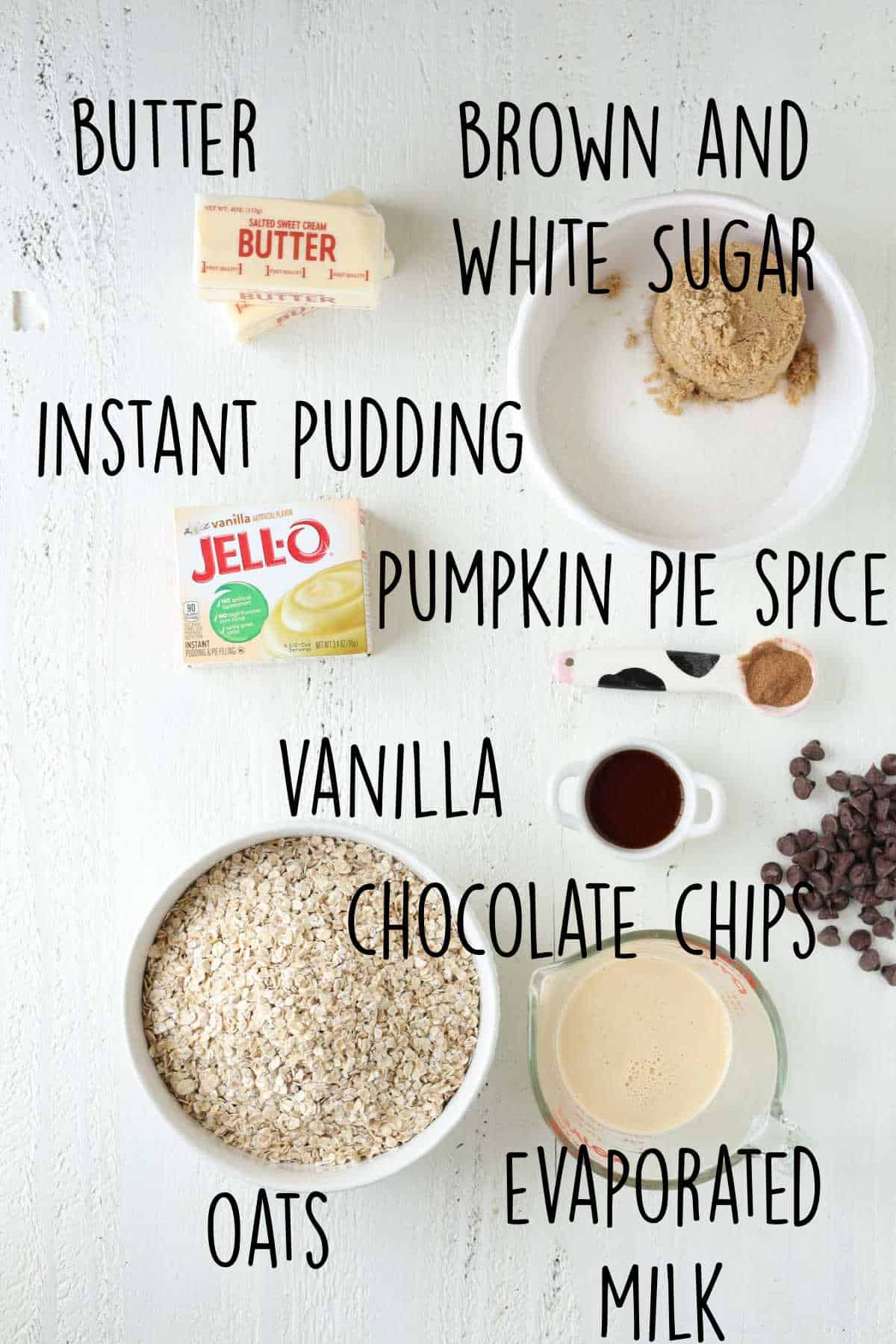 DIRECTIONS
Line a baking sheet with wax paper or parchment paper. A lined cookie sheet makes for easy cleanup! Either will work. Set aside.

Add dry ingredients (vanilla pudding, pumpkin pie spice, and oats) to a large mixing bowl. Stir.

Add sugars, butter, and evaporated milk to a medium saucepan. Stir the mixture occasionally to combine sugars and butter. Continue stirring while bringing the ingredients to a full rolling boil (a vigorous boil that doesn't stop when stirred) over medium-high heat. This will take a few minutes. Once the mixture is boiling reduce the temperature to medium heat (it needs to be hot enough to maintain a full rolling boil). Boil at a full rolling boil for 1 1/2 minutes.

Once the liquid has been at a full rolling boil for 1 1/2 minutes remove it from the stovetop. Add vanilla extract. Pour the liquid over the dry ingredients in the large bowl. Stir to coat oats with liquid. Let rest for a couple of minutes. The oats will soak up some of the caramel-y liquid. It will also cool a little bit so when you add the chocolate chips they won't melt as badly.

Add semi-sweet, milk, or white chocolate chips and quickly stir to combine. Try to quickly and gently stir just a little bit or else the chocolate chips will completely melt and look messy!

Using a cookie scoop drop the pumpkin mixture onto the lined baking sheet. Let rest for about an hour to cool and set. Store in an airtight container.